Researched Based Reading Interventions for Promising Readers
Tier II and III students and other struggling readers often lack the essential comprehension skills and vocabulary to meet grade-level literacy objectives. Reading Plus supports RtI and MTSS models by combining personalized practice with adaptive instruction, helping students to improve silent reading fluency.
How Reading Plus Supports Tier II and III Students

Students who require intervention beyond classroom instruction can use Reading Plus to improve reading fluency.
An adaptive assessment gives educators a 360-degree view of each student and offers a data-driven starting point for practice and instruction.
Reading Plus has developed proven instructional and practice activities to build and strengthen the skills needed for silent reading fluency.
The continuous collection of data on student performance customizes the program's instructional scaffolds, and assists students in developing greater independence.
Reading Plus offers online instruction as well as printable materials for direct instruction and differentiation at the class, small group, and individual levels.
5 Steps to Choosing the Right Intervention for Your District
Under the Every Student Succeeds Act (ESSA), school districts are encouraged to choose intervention programs that have sufficient evidence to demonstrate that they improve student outcomes.
Understanding ESSA's tiers of evidence standards and knowing what to look for will help districts make informed choices about an intervention program's potential effectiveness. Download our guide to learn more.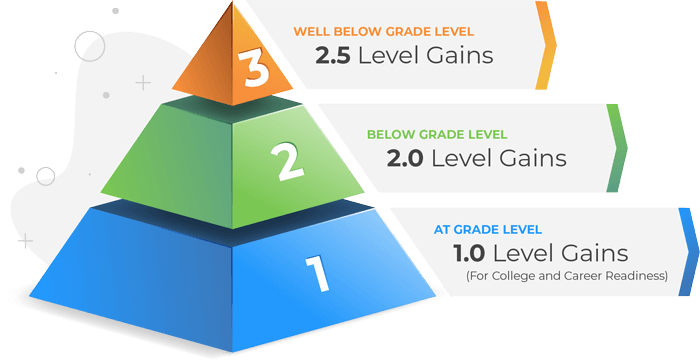 Rapid Results for Tier 2 and 3 Struggling Readers
Reading Plus is designed to rapidly accelerate reading proficiency growth in struggling readers to close the achievement gap. In just 60 hours of Reading Plus use, students make significant gains toward grade-level reading proficiency.