Personalized Learning
Reading Plus customizes instruction for every student by placing students at their just-right levels based on assessment data, and continually adapting to ongoing progress.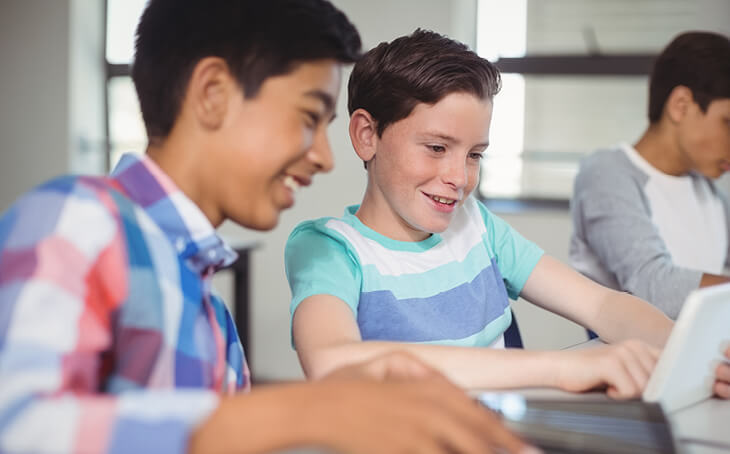 Students who demonstrate mastery are progressed to increasingly higher levels of practice and instructional rigor.
Proven Instruction
and Practice
Activities in Reading Plus build the skills students need to be successful, independent readers.
Students self-select informational and literary texts from eight high-interest categories. Reading Plus texts help students build knowledge and academic vocabulary in curriculum areas of STEM, literature, civics, SEL, and more. Each text is followed by a set of comprehension questions written and researched to align with state standards.
Reading Plus teaches students a research-based compilation of highly valuable, cross-curriculum, general academic vocabulary. Students master words through activities such as matching a vocabulary word with its synonym, selecting sentences where it is used properly, and completing sentences with members of its word family.
Students who need additional fluency support are recommended to develop their visual skills using two key activities: Flash and Scan. These activities improve a student's ability to immediately recognize common letter clusters in words and move fluently through text.
After a proficient reading comprehension score, students are presented with writing prompts to practice comprehension-based writing. Writing prompts are highly crafted to ensure students become attentive readers who read closely, interpret text responsibly and rigorously, cite evidence accurately, and reflect deeply on a text's meaning.
Personalized Guided Practice
In the Reading component, students read text in the Reading Plus Guided Window™ to improve fluency. The Guided Window moves according to the rate at which the student is currently reading and adapts based on the student's performance with comprehension questions. The Guided Window makes reading comfortable by scaffolding the silent reading process, freeing up the mental energy needed for the ultimate goal of reading: comprehension.