How Reading Plus Meets the Criteria for an Effective Reading Intervention Program
Alignment
Reading Plus meets the recommendations of the Every Student Succeeds Act (ESSA), which encourages school districts to choose intervention programs that have sufficient evidence to demonstrate that they improve student outcomes. The Reading Plus program also aligns with the key factors identified in the 5 Steps to Choosing the Right Reading Intervention for Your Students. Find a summary of how the Reading Plus meets the criteria for an effective reading intervention program.
1. Identify Your Students' Needs and Review Your Capacities
Student Assessment
The academic needs of students can range widely within a grade. Assessing struggling students' current skills and identifying their academic needs is essential to determine the appropriate intervention program. The Reading Plus adaptive assessment, InSight, provides a fast and effective way to determine students' academic standing, including their reading strengths and challenges. The results can then ensure that each student is on a personalized learning path to success.
Ease of Implementation
Reading Plus is an easy-to-implement program that requires minimal lift from administrators and teachers. As a supplemental program, Reading Plus can fit into a curriculum where it is needed and is accessible to students and teachers from any compatible device with Internet access.
Flexible Purchasing Options
Reading Plus can be purchased using a range of federal funding, including ESSER and Title I funds.
2. Look for an Evidence-Based
Intervention
Strong Evidence
Reading Plus is an evidence-based program with an extensive research portfolio that demonstrates statistically significant effects on improving student outcomes for all subgroups, including multilingual learners, students who qualify for special education services, RTI/MTSS tiers 1–3, and advanced readers. Reading Plus was found to have "strong evidence" to support ESSA by the Evidence for ESSA team at Johns Hopkins University.
Success Stories
The most valuable way to understand the effectiveness of Reading Plus is from educators—from district-level administrators to assistant principals to classroom teachers—who have first-hand experience with the program. Success stories from schools and districts, from large urban districts to small rural districts, provide insight into how Reading Plus helps students accelerate reading growth. The Reading Plus program is currently used in more than 7,800 schools, helping over one million students become confident, lifelong readers.
A literacy specialist at a high school shared this about the Reading Plus program: "The program's ability to differentiate reading instruction to match individual needs is precisely what struggling readers need!" Students at this school using Reading Plus with fidelity made 4.5 instructional grade levels of growth in the 2020-2021 school year.
4. Research the
Program's Flexible
Implementation
Options
Flexible Schedule Options
As a supplemental program, Reading Plus supports the existing classroom curriculum. Because of its ease of implementation and use, the program can be integrated into the daily or weekly schedule of a classroom, school, and/or district, depending on student need.
Access in School or at Home
The pandemic has taught us that learning can happen despite instructional shifts—if quality technology programs are in place and available outside of the school building. The Reading Plus program is accessible to students and teachers from any compatible device with Internet access, making it a flexible solution to handle a shifting education landscape. In addition, educators have access to hundreds of printable resources that can be used by students for offline instruction that can supplement online work.
Built-in Tools & Support
Reading Plus features a comprehensive suite of reports to provide educators with the tools they need to lead an in-person, hybrid, or virtual classroom. Built-in messaging tools enable teachers to communicate directly with an individual student or a whole class. Real-time alerts and notifications identify students who need additional attention and support. Educators can access high-quality virtual professional development from home or school to learn about the program in easily digestible eLearning modules. In addition, our highly responsive Customer Service team is available through multiple channels during an inclusive range of hours.
5. Implement with
Fidelity and
Examine the
Results
Results
Fact: Tier 2 and 3 students who use Reading Plus with fidelity (60+ lessons) can gain 2.0-2.5 proficiency grade-level gains in just one year.
Data and Reporting
Reading Plus, from its program components and offline resources to the real-time reporting and professional development for educators, is designed to set students and teachers up for success. The InSight assessment identifies students' needs and provides a personalized instructional path that meets students right where they are. Lessons are assigned based on students' needs. For struggling learners, 60+ lessons in Reading Plus is the recommended usage over a school year. Student agency in reading selection, with eight high-interest categories from which to choose, allows students to stay engaged in their reading and complete the assigned lessons.
Real-time, actionable data enables teachers to monitor student progress, build comprehensive student profiles, and assign lessons as needed. A variety of data-driven reports offer teachers and administrators a quick glance into student, class, and school progress, providing essential insight throughout the school year.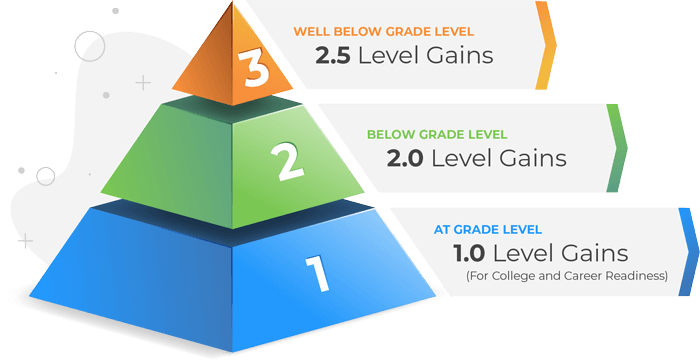 Rapid Results for Tier 2 and 3 Struggling Readers
Reading Plus is designed to rapidly accelerate reading proficiency growth in struggling readers to close the achievement gap. In just 60 hours of Reading Plus use, students make significant gains toward grade-level reading proficiency.
Experience Reading Plus with a Self-Guided Tour!
Complete the form below to get instant access to our self-guided tour of Reading Plus and discover how our program supports teachers and accelerates students' learning.